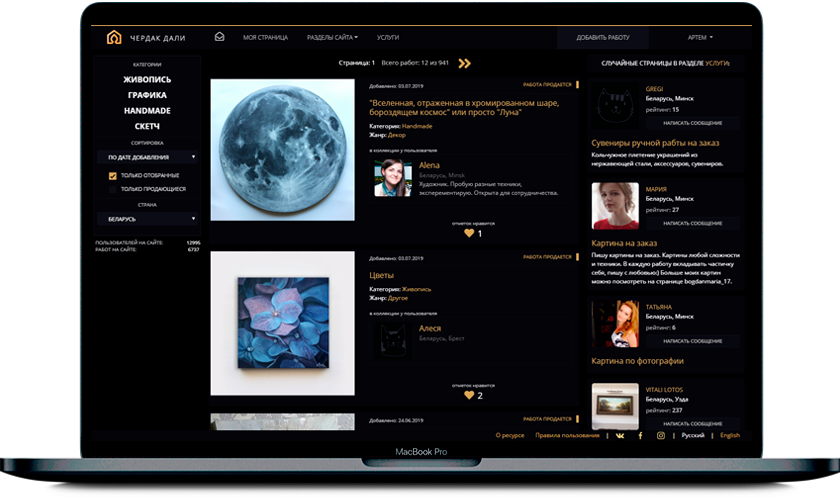 Интернет-проект
CHERDAK.ORG
StartUp project in the field of art
---
Project Goals
Project was created specifically for artists, sculptors, masters and other creative individuals. This is an online gallery where you can place your work as a portfolio, as a personal collection, or put it up for sale. The best works are duplicated in social networks, increasing the overall reach. The site is multilingual and designed for a wide audience of people who post their work and buyers.
The site is implemented using the Progressive Web Application (PWA) technology, which allows you to install it as a mobile app on your phone directly from the browser. The project is also packed and uploaded to Google Play.
The site has the following functionality:
Progressive Web Application (PWA); App also download in Google Play.

User registration.

Adding works with a wide description and the ability to edit the uploaded image.

A system for filtering works by category, genre, popularity, and location.

The system of "likes" and reviews..

A messaging system between users of the resource, as well as the ability to request the cost of work from the author.

Ability to share site content in social networks.

Administration panel for all resource positions and analytics of key indicators.

Changing the resource language (currently Russian and English).

"18+" content control system.

The user's personal account with the ability to edit a broad description.

Email notification system.
As well as related features.
---
YOU NEED SOMETHING SIMILAR?
Unique design and functionality for your business, without templates and outdated technologies.
Share:
---
The project team:

Артем
Co-Founder | Team Lead

Валерьян
Co-Founder | Internet marketing | PM