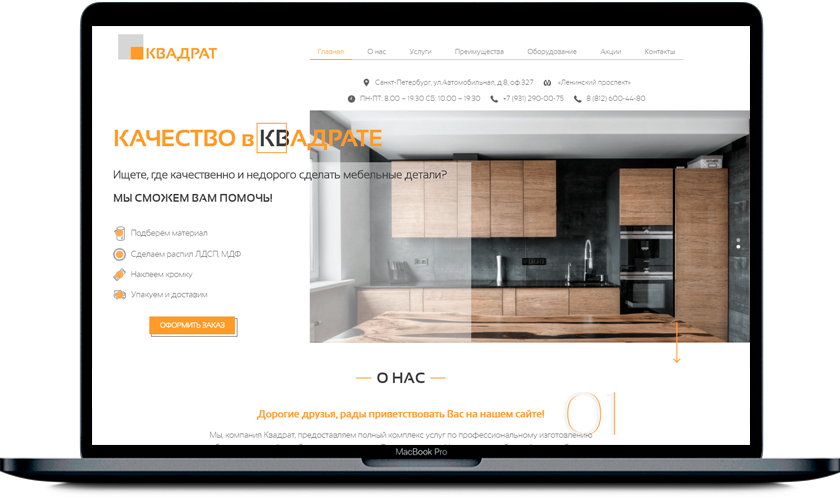 ---
YOU NEED SOMETHING SIMILAR?
Unique design and functionality for your business, without templates and outdated technologies.
Share:
---
The project team:

Артем
Co-Founder | Team Lead

Валерьян
Co-Founder | Internet marketing | PM

Полина
Ведущий веб-дизайнер
Надежда
Front-end developer
Дарья
Digital marketing
Landing Page
Square - the site of a furniture company
Website development for cutting materials in Saint Petersburg
---
Go to site
We have developed a website where the user can study the client's services, their advantages, prices and the procedure for providing services.
When developing a Landing Page, special attention should be paid to the user. In a highly competitive market, each users open several sites in the browser and looks for one that will meet their needs, answer all questions, and close the "pain" of the client.
When creating each Landing Page, our team takes a very serious look at the company and the target audience to understand the advantages of the product and how it solves the user's tasks.
After this study we create website prototype. The prototype shows which path the user will take on the site, what they will get acquainted with, and where they should place their order. Based on this, adjustments are made to the layout. After this stage, the prototype is passed on to the designer.
At the design stage, it is very important to convey the company's philosophy and choose a style that will inspire confidence. We place special emphasis on the usability of the site (UX \ UI design). All our projects have unique design, which you will not find elsewhere.
After the design is approved, the project is passed on to programming. Our programmers create websites using "clean code", without templates and site constructors. This allows to create a site that has a high speed of loading and operation. The site also adapts to all types of screens and devices.
The website for the furniture company is modern, lightweight, interesting and highly conversive.
The project implementation period is 2 months.