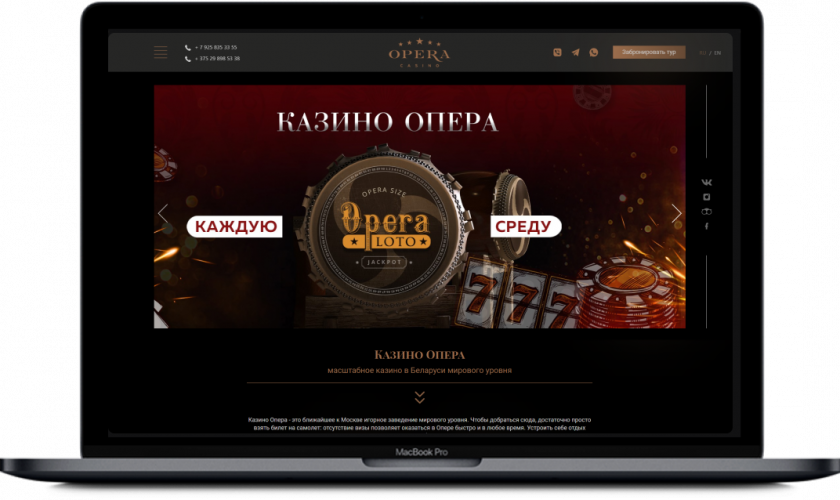 ---
YOU NEED SOMETHING SIMILAR?
Unique design and functionality for your business, without templates and outdated technologies.
Share:
---
The project team:

Артем
Co-Founder | Team Lead

Валерьян
Co-Founder | Internet marketing | PM

Дарья
Front-end developer
Интернет-проект
Opera
Corporate website for the "Opera" casino and the "Beijing" hotel
---
Go to site
Description of the project
Opera Casino is located on the territory of the Peking Hotel in the city of Minsk.
The site fully reveals the main concepts of the establishment: it is convenient for the user to perceive content about all kinds of casino entertainment and hotel services.
The design of the project deserves special attention, which completely immerses you in the atmosphere of the casino.
Logic blocks with information, the development of a virtual tour of the institution, the possibility of booking a game tour and hotel rooms - the site is thought out to the smallest detail, and the user has a desire to relax at the Opera.
Important and useful in an Internet project:
1. have developed a design that conveys the atmosphere of the casino;
2. the site is localized, RUS / ENG;
3. division into logical blocks;
4. in the sections for booking game tours and hotel rooms, added a filter by category;
5. created a virtual tour of the casino;
6. adding information about the events of the institution, photo and video content is done through the admin. panel;
7. dynamic gallery;
8. integrated a form for collecting contact information for e-mail newsletters;
9. there are web analytics tools and social network pixels;
10. module for editing site meta-information (SEO).
Website Pages:
• casino;
• hotel;
•restaurant;
• game tours;
•events
• gallery
•contacts.
Stages of website development:
1. Collection of information
2. Mind map
3. Terms of reference
4. Prototyping (UX)
5. Design (UI)
6. Front-end development
7. Back-end development
8. Testing (QA)
9. Launching in production (hosting on a domain and hosting)
10. SEO optimization
11. Site connections to web analytics systems and other third-party resources.
List of technologies used:
• Laravel 8
• MySQL
• HTML5
• CSS3
• jQuery
• AJAX
• Bootstrap 4
• Font Awesome
• Schema.org
• Vuetify
• Vue Router
• Vuex
• vue.js
• Redis
• socket.io
• Docker
• Flutter
Team for the project: project - manager, designer, front-end developer, back-end developer
Project implementation period: 2.5 months.