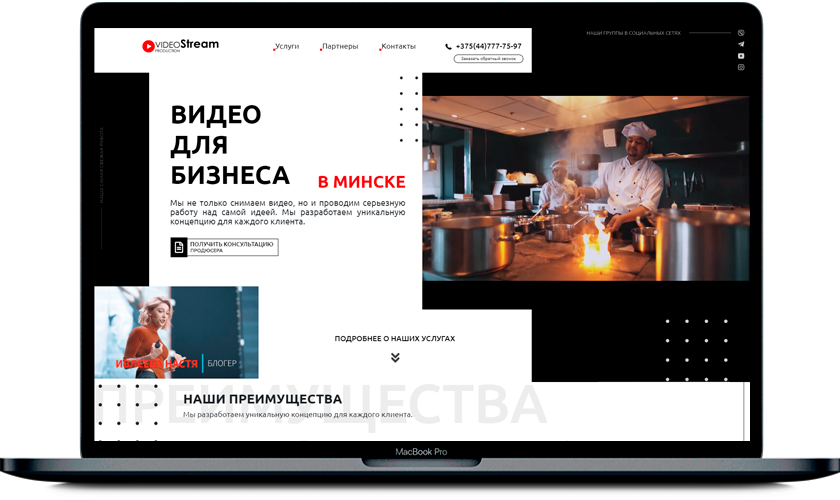 ---
YOU NEED SOMETHING SIMILAR?
Unique design and functionality for your business, without templates and outdated technologies.
Share:
---
The project team:

Артем
Co-Founder | Team Lead

Валерьян
Co-Founder | Internet marketing | PM
Надежда
Front-end developer

Полина
Ведущий веб-дизайнер
Landing Page
Videostream - website of a video creation company
Website development for video production company
---
Go to site
Video for business is an Internet marketing trend. We helped the video production company to convey their services and values to the target audience. The result is a great project with a wide portfolio and description of services.
Before designing this project we studied competitors and looked at the best solutions on the Russian and European markets. In the end, we accepted the best and took into account the shortcomings of our competitors.
The site creation included several stages:
Prototyping. Our team has studied the target audience, the product and designed the process of interaction with the user on the site. The prototype showed which blocks the user should read and what information to get before ordering the service.
Design. After prototyping, the project moved to the design stage. At this stage, it is very important to create a concept that will appeal to the target audience and reflect the style, values, and philosophy of the company. The design, among other things, must comply with the UX\UI principles.
Programming. Our development team has created a website based on "clean code". This means that we didn't use templates or site constructors. This makes the site load and run quickly. This has a good effect on SEO indicators, the cost per click on ads, and the conversion of users to buyers. The site is adaptive to all types of devices.
The whole development process took 30 days.