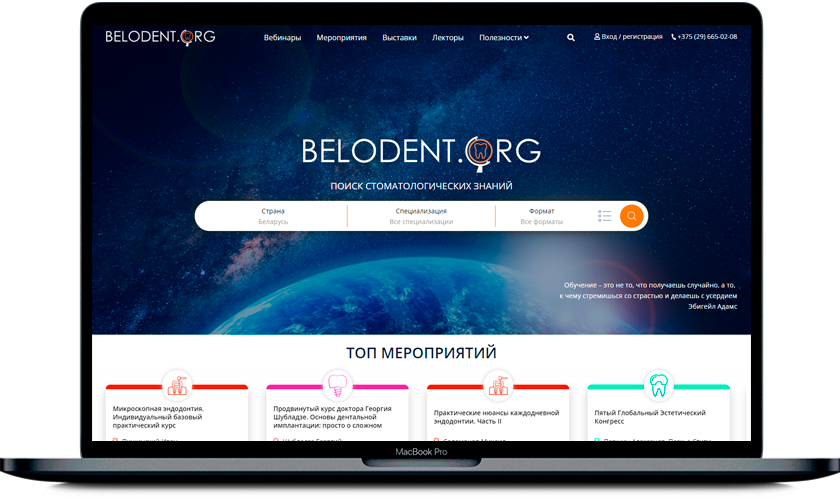 ---
YOU NEED SOMETHING SIMILAR?
Unique design and functionality for your business, without templates and outdated technologies.
---
The project team:

Артем
Co-Founder | Team Lead

Валерьян
Co-Founder | Internet marketing | PM
Екатерина
Ведущий дизайнер
Интернет-проект
BELODENT.ORG
The creation of dental online portal
Goals and objectives
The main activity of the project is the organization of events (seminars, webinars, exhibitions, etc.) in the field of dentistry. Thus, the main task of the portal is to provide functionality for users to register for events, pay for participation, generate payment documents (invoices for payment), and notify when events that the user subscribed to occur.
The portal also hosts a huge database of dental materials (articles, videos, books, photo reports), which is updated by the administration and users of the portal.
The portal has the following functionality:
Create events in various categories, cities, and specializations.
Registration for events, online payment and formation of payment documents, administration of registration requests.
Filtering site events and materials, creating events and materials by registered users.
Internal CRM system for administration of users, applications, events, materials, lecturers, photo reports, etc.
System of subscriptions and notifications about new events and materials on the portal.
Geolocation detection, linking filtering to the user's location.
Personal accounts of users with extensive features.
Separation of administration roles (administrator, moderator, manager, etc.).
As well as a huge amount of highly specialized functionality.
---
Go to site