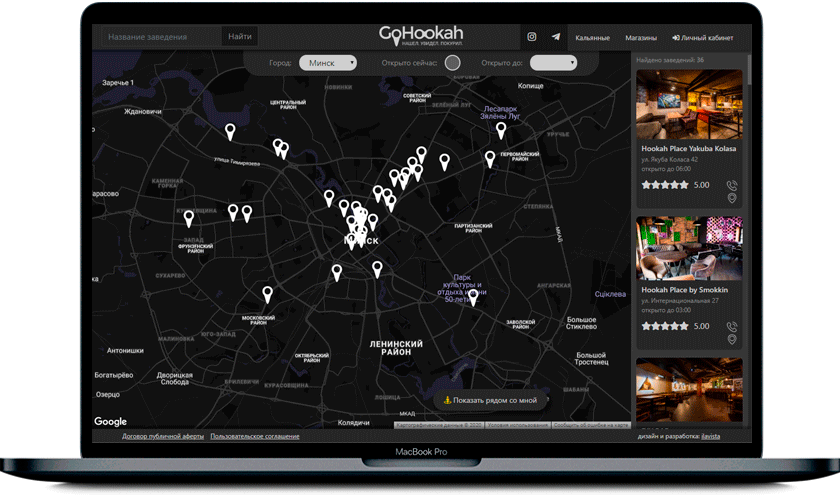 Интернет-проект
GoHookah.club
Information web project about hookah culture
---
Go to site
At its core, Go Hookah.club is an aggregator of hookah bars selected by the moderators. Bars are displayed on an interactive map. Registered users of the website can leave reviews and form a rating of these hookah bars.
The main goal of the site is to allow users to find an hookah bar "nearby", display objective information about the quality of this bar and describe events and promotions that are currently taking place there.
The site has the following functionality:
Interactive map of hookah bars.
Filtering hookah bars by various parameters (opening hours, "open now", etc.)
Displaying hookah bars "nearby" based on the user's geo position.
A rating system based on reviews from registered users.
Extended card of the hookah bar with detailed information, graphic materials, menus and other information elements. It is possible to book a table in an hookah bars via the website, as well as order a taxi to the institution.
Personal accounts of registered users that allow them to participate in promotions of hookah bars.
As well as related functionality.
---
YOU NEED SOMETHING SIMILAR?
Unique design and functionality for your business, without templates and outdated technologies.
Share:
---
The project team:

Максим
Full-stack developer

Артем
Co-Founder | Team Lead

Валерьян
Co-Founder | Internet marketing | PM