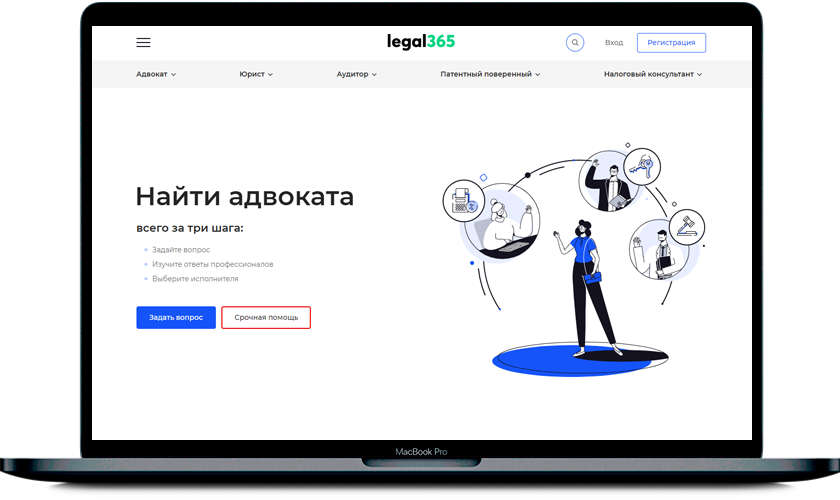 Интернет-проект
Legal365 - marketplace for legal and economic services
The service will allow you to find a professional contractor and get services online.
---
Go to site
The best solutions are created at the junction of two expertise. An example of this is Legal365, where professional lawyers met with developers.
Watch a video about the project: "Experts in the field of law have created the first marketplace of economic and legal services in Belarus" link.

We combined the knowledge of experts and received a product: a service (platform) for clients to find services of specialists in the field of law. It is also the first web project in Belarus to integrate Microsoft office licensed tools. Integration with Microsoft services was carried out in two directions: registration of new accounts and work with subscriptions was implemented through the API of a third-party contractor (who acted as a Microsoft Partner), and the use of Microsoft Office functions (creating meetings in MS Teams, etc.) was carried out directly through Microsoft Graph. API.
You are faced with a legal problem, you don't know what methods of solving the problem exist and what are the consequences of each of the methods, and most importantly, you don't know which specialist to contact. A lawyer, attorney or tax advisor?


You can ask your question (link) and get answers and suggestions from a professional who specializes in solving your particular problem. Questions on the service are manually moderated by the service staff, which allows you to accurately determine the specifics of the issue and offer qualified performers for selection.


If you know for sure that you need a specific specialist to solve a problem (you know the profession), use the service catalog (link) to select a specialist by experience, specialization, territory, price and other parameters.

You can also use the knowledge base (link) of the service to search for forms of documents, articles of interest to you, judicial practice and choose the author of the article as a specialist to solve your problem.
After choosing an artist, you can sign up for a consultation using the specialist's calendar. As a result, you get an answer to your question without leaving your home.

Product description:
Legal365 is a legal aid platform that connects professional specialists with clients online. Provides fast and convenient online interaction between a specialist and a client.
There are 2 types of users on the platform: Performers and Clients:
Above in the text, we have given examples of the Customer's user experience.
In the personal account, the client sees the history of his requests. Receives answers and suggestions from professionals. You can sign up for a consultation with the performer, the platform itself creates a link to the video consultation - you just have to go in and chat. The client can also book a time in the performer's calendar without asking his question on the exchange.
The performer also has a personal account. Each contractor can subscribe and have access to Microsoft office products. The performer has a calendar in which entries from clients are formed. The Contractor can call online with the client, respond to the Customer's inquiries and offer a price for his services.
Payment for the services of a specialist is made directly between the customer and the contractor, without intermediaries and without a service commission.
Project team: project manager, UX | UI designer, front-end developer, back-end developer, tester.
Description of technical documentation is maintained in Jira and Confluence throughout the life of the project.
Development stages:
Collection of information

Mind map

Technical task

Prototyping (UX)

During the prototyping stage, more than 80 pages were rendered. Several site concepts have been proposed. Above is a screenshot of the working page of the project in Figma.
Design (UI)

Front-end development

Back-end development
The site is developed in clean code. Front-end development: The site is built with HTML5 + CSS3 + Vue.js. Application state management is handled by Vuex. Server requests are handled using AJAX. Bootstrap 4 is used as a UI framework.
Testing (QA)

Launch in production (domain and hosting)

SEO optimization

Site connections to web analytics systems and other third-party resources.

Marketing strategy

Ilavista has developed a marketing strategy to promote the platform, which is presented in 5 parts:
1.1.1 SEO optimization.
1.1.2 Connection of marketing and analytics services.
1.1.3 Traffic.
PPC

Targeted advertising

Media \ Influencer

CRM - Product Management.

List of technologies used:

PHP7,

Vue.js,

Vue-Bootstrap,

MySQL,

Docker,

GIT,

JavaScript,

AJAX,

HTML5,

CSS3

Vuex
Project implementation period: 12 months

At the moment, the site continues to be refined.

All tasks are broken down into iterations. The development of a payment billing system is to be done. Implementation of a marketing strategy.
---
YOU NEED SOMETHING SIMILAR?
Unique design and functionality for your business, without templates and outdated technologies.
Share:
---
The project team:

Артем
Co-Founder | Team Lead

Валерьян
Co-Founder | Internet marketing | PM

Полина
Ведущий веб-дизайнер

Дарья
Front-end developer